Written by Tenley Haraldson.
---
Whether you're moving into a new home, expecting company, or giving an epic housewarming present, these bathroom essentials outline everything you need in a well-stocked, guest-ready powder room. 
Essential Bathroom Supplies List 
Though every household has different bathroom needs, you actually should have the following bathroom items available:
Mirror
Wastebasket
2 each: Bath towels, hand towels, washcloths
Non-skid bath mat
Toothbrush holder 
Over-the-door and/or wall hooks
Extra toilet paper
Toilet paper storage
Toilet brush & container 
Plunger (hidden out of sight)
Remember: These are just bathroom essentials. Depending on your budget and style, you can add elements like an essential oil diffuser, softer light bulbs, hanging plant, or a colorful shower curtain.
Why Your Bathroom Checklist Should Include Green Cleaning Products
You know something in the bathroom you might not want? Potentially harmful fumes and chemicals in cleaning products. That's why the entire Puracy lineup is tested by physicians and PhD chemists to ensure a clean you can count on:
When you pair safe, effective cleaning products with our top-to-bottom bathroom cleaning guide, your surfaces will sparkle without perfumes, sulfates, bleach, chlorine, phosphates, and much more: 
Puracy Natural Stain Remover
Tired of dingy bath mats, stained towels, or gross fabric shower curtains? Try the 99.96% natural formula of Puracy Stain Remover. Its six plant-based enzymes tackle hundreds of different stains, residues, odors, and spots – without bleaching or discoloring fabrics. 
Puracy Multi-Surface Cleaner
Our streak-free, versatile surface cleaner can be used on any non-porous bathroom surface, including: toilets, tubs, tiles, countertops, mirrors, and glass shower doors. And the formula is 99.96% natural. 
Get the best tips from the cleaning obsessed.
Puracy crafts cleaning & care items that work really well. Our obsession with natural cleaning performance is our profession, and we're here to share it with you.
Puracy Disinfecting Surface Cleaner 
First, this hydrogen peroxide disinfectant tackles grease, grime, and dirt. Next, it kills more than 99.9% of viruses and bacteria in 10 minutes. From toilets to sinks to tile to shower, you can use it on nearly every non-porous material.
Note: We recommend sticking to our Multi-Surface Cleaner for wood, soapstone, and marble.
Master Bathroom Supplies List
From refreshing yourself in the morning to relaxing at the end of the day, your master bathroom should be fully-stocked with everything you need to look and feel your best.
In addition to the 12 bathroom essentials above, you may want to equip your master bath with the following: 
2 sets of organic cotton bath towels, hand towels, washcloths 
Non-skid tub mat
Soap dispenser/dish
Shower curtain, liner, & rings
Shower caddy/suction basket(s)
Cosmetics organizers
Wall-mounted shelving
Under-the-sink storage baskets and/or containers
Clothes hamper
Depending on your preferences and daily routine, your list of bathroom items may vary – but might include:
Personal Care Products
Skincare regimen (e.g. face wash, eye cream)
Bubble bath and/or bath salts
Shaving cream
Personal Care Tools 
Razors 
Hair brush
Hair styling tools (e.g. dryer, straightener, styler)
Nail clippers
Scale
Dental floss 
Comfort Bath Items 
Bathrobe and slippers 
Space heater 
Candles/essential oil diffuser 
Bluetooth speaker for music
Guest Bathroom Items List
It's always awkward to ask hosts if things in the toilet area aren't available (like toilet paper or a plunger). Guests will feel more welcome when your guest bathroom is well-stocked with the following:
High-quality towels 
Travel-sized toiletries like:

Toothpaste
Disposable toothbrush
Floss
Mouthwash
Disposable razor

Hair dryer
Pain relievers (i.e. Tylenol, Advil)
Extra toilet paper
Tampons & pads
Storage for extra toiletries 
Add Puracy Products to Your Bathroom Essentials Checklist
With a personal touch and effective cleaning essentials, your bathroom will actually shine. And we believe that's a thing of beauty.
Try any of our cleaning or personal care products. If you're not totally thrilled, we'll give you your money back. No questions, no hassles. That's the Puracy promise.
Shop this article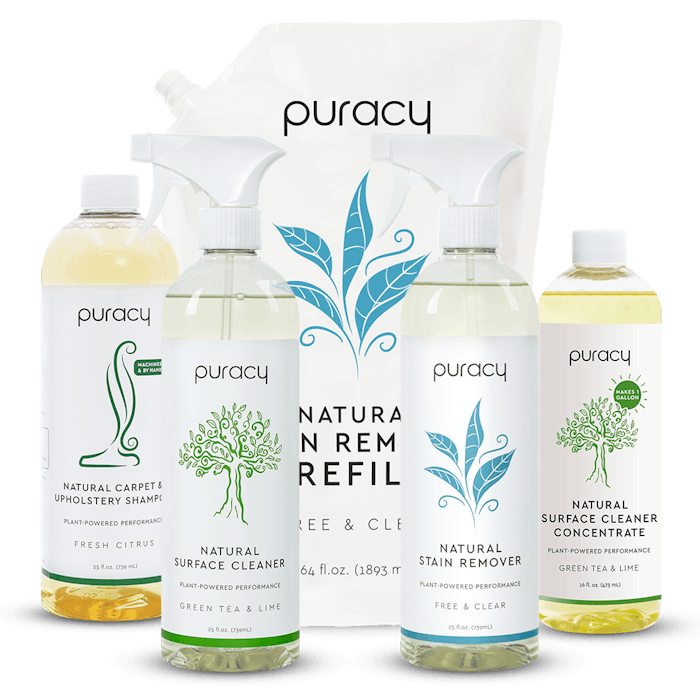 Home Cleaning Box
This is everything you need to transform a house into a clean, safe, and pure home.
Shop now